Posted on 22nd Apr 2013 @ 8:27 PM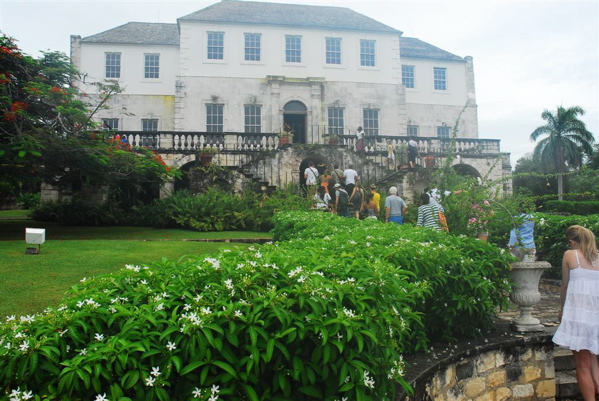 Rose Hall Great House, Jamaica is one of the most famous structures in Jamaica. It is located approximately 9.25 miles (15 km) east of Montego Bay and was built in the 1770s by George Ash. At the time the Great House was begun in 1750, it was one of more than 700 great plantation houses which controlled the slaves working the sugar plantations.

The Rose Hall Great House was named after the wife of George Ash, Rosa. Ash died in 1752 before finishing the structure. Rosa married three more times, the final marriage to John Palmer, the Custos of St. James Parish... the Parish where the Great House is located.

Palmer completed the Great House in the style of a Georgian Mansion. The house has a plastered upper story and a stone lower level. Its position set high on a hill overlooking the coast makes Rose Hall Great House a commanding presence literally as well as figuratively. In 1770, the cost to build Rose Hall Great House, Jamaica was set at 30,000 pounds. It included such amenities as a mahogany staircase.

Upon the death of John and Rosa Palmer, the house passed to James Palmer, grandnephew of John Palmer who brought his bride Ann Palmer to the mansion. To this point, tales about the Great House are not substantiated by documentation. There was a Rosa Palmer who died at the age of 72 and was a model of Christian virtue. According to research, Ann Palmer married to James (or possibly John) Palmer and was also a model wife.

However, the legends of the The White Witch of Rosehall, featured in the story by H.G. de Lisser (in his 1928 novel), have taken on a life of their own. The legendary Annie Palmer was a black magician trained in voodoo arts who murdered three husbands... and was reputed to have been strangled in her own bed by a voodoo priest from a neighboring plantation.

Her murder was in retaliation for the murder of the priest's granddaughter slave husband-to-be who was killed by Annie when she tired of him in her bed. This occurred at the beginning of the slave uprisings which stretch from 1831-1838.
There is no question that the Rose Hall Great House, Jamaica was heavily damaged during the 1831 rebellion by the slaves, although it is one of only 15 of the great houses which remained.

After passing through the hands of three owners, Rose Hall Great House was acquired by American millionaire John Rollins, who spent vast sums of money to restore the property to its former beauty in the 1960s. It boasts silk wallpapers, European antiques, chandeliers, mahogany floors, paneling and wooden ceilings.
A bar and restaurant are found downstairs at the Great House.
FOR YOUR INFORMATION:
Entrance fee NOT included ($15.00 per person)

Pick-up available from all hotels and pier in Montego Bay

Tour includes roundtrip transportation

Complimentary car seat available for infant/toddler

Tour available 7 days per week

Bring your camera

Tour not wheelchair accessible
Please contact us for groups over 10
If you prefer to reserve this tour while you are here, please call 876-287-2180 or 876-292-4174